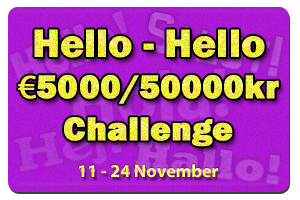 Hello-Hello €5000/50000kr Challenge
11-24 November
Challenge Games: Wave Hello          Kiss Hello
Win Prizes – Earn Badge – Play Tourney
Hello-Hello!! We have two new Challenge games playing daily twice an hour (7am to 2am): Wave Hello & Kiss Hello! Win both games for [€5/50kr] Bonus, the new Challenge Badge, and gain entry to the exclusive Thursday night Tournaments for [€750/7500kr]!
Salut! Hallo! Hej! Hola! Hello! How many ways can you say Hello?
21 November is World Hello Day, which is celebrated in 180 countries as a way to remind world leaders to settle conflicts with communication rather than force. You too can participate in this expression of peace and harmony: Just say "Hello!" to 10 different people on Hello Day!
Speaking of greetings, it's time to say "HI!" to our latest Challenge games: Wave Hello & Kiss Hello!
These games play twice every hour from 7am to 2am every day in [Money Tree] and [Lucky Streak]. When you win BOTH games, you'll earn [€5/50kr] Bonus, the Challenge Badge, and entry to the Hello-Hello Challenge Tournaments playing for [€750/7500kr] in prizes! Tournaments play Thursday nights at 10pm in [Madhouse].
Terms and Conditions
Promotion runs: 01:00am CET 11 November through 00:59am CET 25 November.
When players complete a Challenge by winning both Challenge games they earn €5 [50 kr] Bonus, a Challenge badge for their badge board, and entry to the weekly tournament held Thursdays in [MadHouse] at 10pm. Every subsequent time the Challenge is completed again, the player earns another €5 [50 kr] Bonus.
Bonuses are credited after qualification.